The BikeBox – Quick look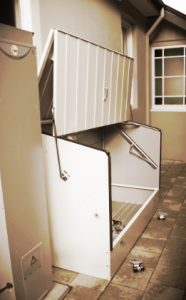 Today we are launching our "quick look" articles. Here you will find cycling related products that we like the look of. We'll give you a quick run down of what the product is and how you can find out more.
No room in the shed for bikes…… bikes banned from the house? The BikeBox could be just what you need. We really like the practical solution that the guys at The Bike Box have come up with.
The Bike Box is an outdoor storage cabinet for bikes. It comes in two sizes (3 bike and 2 bike capacities) and is constructed from a PVC coated galvanised steel in green, cream or grey (3 bike version only).  Its has been designed to be long lasting and keep the weather out.
It's also secure, having been tested and certified by the UK Loss Prevention Certification Board and awarded the LPS1175 Security Rating 1 . The Bike Box comes supplied with 3 padlocks, heavy duty ground anchor and security cable. If you need somewhere safe to store your pride and joy this could be the perfect option. Both sizes are priced at $1,295 plus delivery or $25 to $85 depending on location – Western Australians will need to get a quote.