Bicycle storage for your home or apartment,
indoors or outdoors!
The BikeBox is the bicycle storage solution that protects your bike from theft and the weather!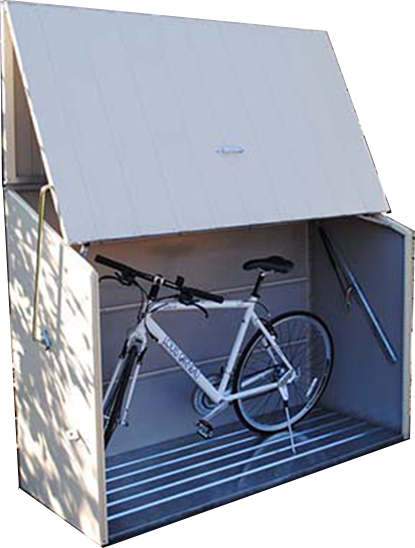 The BikeBox™ is the unique, practical and easy to use storage cabinet for bikes and other household items (lawn-mowers, golf clubs, gardening equipment etc.).
Whether it's for your car space in the basement garage of an apartment building or in the back yard of your home, theBikeBox™ offers unparalleled security, strength and convenience.
Australians are buying bicycles in record numbers and using them not just for recreation, but increasingly as a replacement to short and medium car trips. In the past ten years, bicycle sales in Australia have almost doubled. With increased bicycle sales, the number of insurance claims relating to stolen or damaged bicycles has grown and as mid range bicycles now retail upwards from $2,000, the extent of loss is also considerably more.
The Bike Box™ has been designed to offer unbeatable security and convenience at an affordable price.
The BikeBox™ is designed and manufactured in the U.K. by Europe's leading manufacturer of metal sheds, and has a long, successful history of providing affordable but effective bike storage and security in that country. Considering the weather and incidence of theft in the U.K. this speaks highly for the product!!
In fact, the same product in the UK enjoys a number of very significant endorsements:
Quality Construction
It is constructed from a unique PVC coated galvanised steel (ColourCoat LG) that offers excellent longevity and weather protection when installed outdoors
Tested & Certified
The BikeBox™ is the only cycle store which has been tested and certified by the UK Loss Prevention Certification Board and awarded the LPS1175 Security Rating 1
Police Preferred
The BikeBox™ has achieved the UK Police SBD mark (Secure By Design) "Preferred Police Specification."